Instantly add a little bit of magic to any room with this incredibly realistic moon lamp that levitates in the air! Amaze your family and friends with a unique gift that's truly out of this world!
Creatively using the power of magnets, the invisible forces propel the Moon Lamp upwards and hold it several centimeters above its base giving the already unique product an even more magical quality.
Just as we look to the sky and marvel at the Moon as it is calmly hanging from nothing but space you will look to your Magnetic Levitation LED Moon Night in awe as if it was held by an equally mystical force.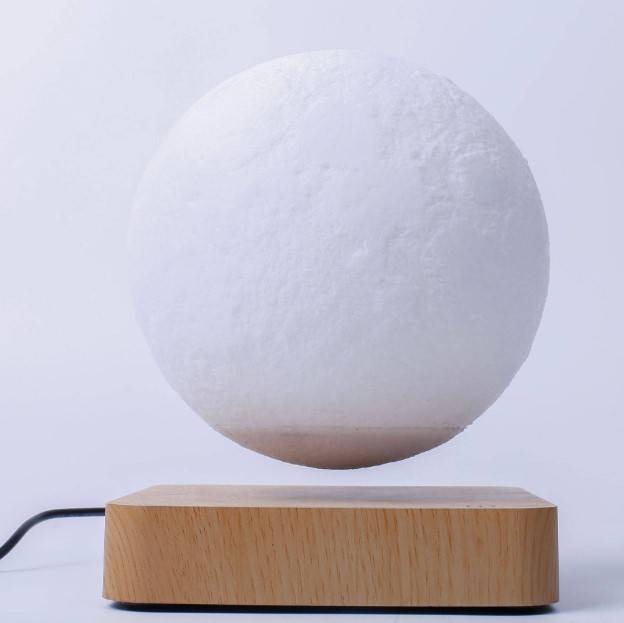 FEATURES:
MAGNETIC LEVITATION– Thanks to the latest in levitation technology, the moon levitates in the air at all times and can constantly rotate or stay in one position – it's up to you.
28+ HOURS TO PERFECT – Each Moon Lamp takes 28+ hours to make using state-of-the-art 3D printing technology.
WIRELESS CHARGING– The Levitating Moon Lamp uses wireless charging technology so it can be charged even while levitating! The touch control base below allows you to turn ON/OFF the LED inside the Moon Lamp.
SPECIFICATIONS:
Material: Eco-Friendly PLA 
Moon Size: 15 cm/5.9 inches
Base size: 18 cm/7 inches
Battery Capacity: 500mAh built-in rechargeable battery
Switch Type: Touch
Package Includes:
1x Moon Light
1x Magnetic Suspension Base
1x EU or US Plug Power Cable
1x Manual